ERPNext - Implementation at Maharashtra IT Corporation
October 1, 2020
ERPNext implementation at MahaIT during COVID-19 lockdown
COVID-19 has changed the world a lot and it has touched almost all walks of life in a negative way but something positive that happened with us was that we went ahead with a complete remote ERPNext implementation in the government sector for Maharashtra Information Technology Private Limited during the lockdown here in Mumbai, Maharashtra. The whole implementation was completed remotely during the COVID-19 lockdown in 3 months with great assistance from our User Champion at MahaIT and no onsite visits were needed for the implementation.
About MahaIT
Maharashtra IT Corporation Pvt Ltd serves the information technology needs of the government of Maharashtra. They have over 2200 contractors working with them and about 50 employees.
Implementation summary
Modules
Human Resources - Leave management, expense claim management and timesheet tracking for over 2000 contractors/users
Selling - Quotation, Sales Order, Sales Invoices
Buying - Purchase Order and approvals
CRM - Lead, Opportunity, project tracking
Issue Management - Creating and tracking issues
PCQ - Custom module built as per requirements
Number of Users
2400 (Contractors and Employees)
The process complexity involved approval levels ranging from 1 to 5 level approvals via workflow and changes (customizations) to the ERPNext default functionality to meet needs of the Information Technology services sector and integrating the business flow with a custom module.
A small testimony to our services below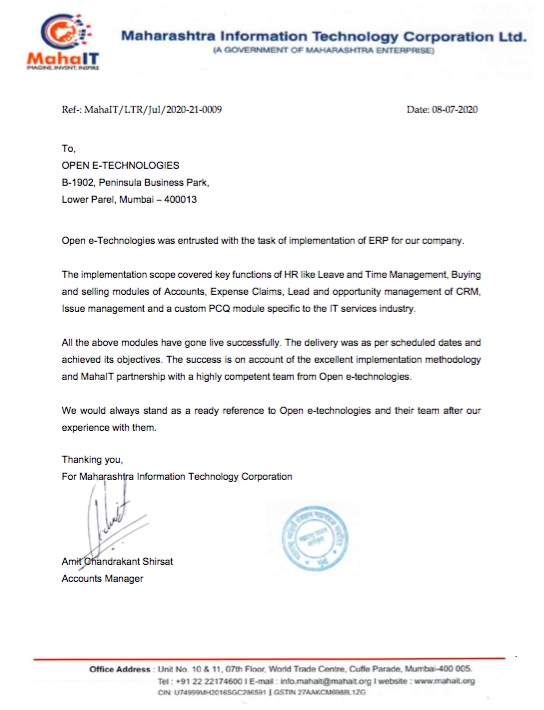 ---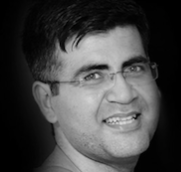 Pawan is the Principal Solution Consultant at Open eTechnologies. He helps enterprises implement various ERP solutions based on their business processes.